Farberware Air Fryer Reviews
Farberware Air fryer Instructions
Today I'm reviewing the Farberware Air Fryer. Most people buy air fryers because they are trying to cook with less oil, and it's a good alternative to deep-fried foods. With most of the food that you cook on the air fryer, you only use about one tablespoon of oil.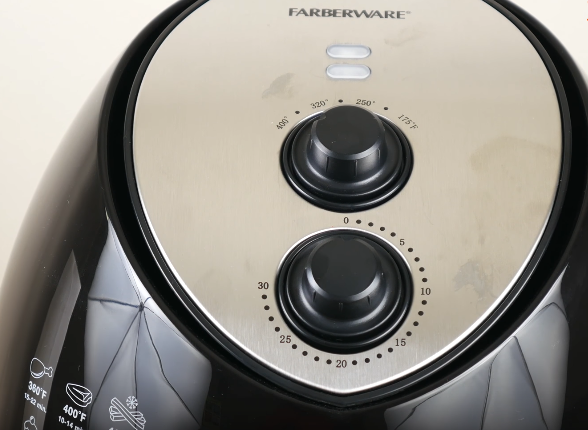 The air fryer works by circulating hot air at high speed. There's also a top-heating element inside to help cook the food from all sides. You can use this unit to reheat food and not just cook food. It's best not to put greasy, fatty foods like a sausage in here because the unit could catch fire.
Farberware air fryer manual
The instruction manual has recommended cooking times and temperatures for room-temperature food and frozen food. Even with frozen food, it's recommended to bring the food to fridge temperature and not straight out of the freezer. There's a separate recipe book with recipes for fried chicken, French fries, vegetables, and desserts like cookies and brownies. If you want to bake in this air fryer, use a baking tin, a foil tray, or any other type of dish that you would use in a regular oven. Of course, you cannot use cardboard or plastic.
Technical Specifications Chart:
| | |
| --- | --- |
| Features Details | Farberware Air Fryer |
| Type: | Oil-Less Multi-Functional Air Fryer |
| Total Weight: | 12.72 pounds |
| Automatic Switch-off: | Yes |
| Water-proof: | No |
| Commercial Use: | No, only household |
| Color: | Black |
| Model: | 3.2 Quart |
| Dimensions: | 18″ x 15.5″ x 16″ |
| Capacity: | For a maximum of 2 lbs/0.91 Liters of food |
| Control Panel | Touch screen |
| Silicone Baking Cups: | 8 |
| Time Setting: | Maximum 30 minutes |
| LCD Screen: | No |
| Highest Temperature: | 400°F |
| Recipe Book & Accessories: | Included |
| Price and Review: | Check Today's Price |
Farberware Air fryer Review
The unit measures a little over 13 inches tall and 10 inches wide. The power indicator is on top, and the temperature indicator is right below. The temperature control knob can be set anywhere from 175 to 400 degrees Fahrenheit. The timer that you can set is from 1 to 30 minutes. It's also the on and off switch.
Pictures show how long food takes to cook, which is helpful, so you don't have to pull out the manual. The air vent is in the back, and you don't want to block that. You can cook up to 2 pounds of food in this unit.
When you first pull the air fryer out of the box, there's a really strong plastic smell. Before using the air fryer for the first time, turn the heat to 400 degrees and let it run for about 20 minutes. After the unit cools down, wash the basket and the holder.
To use, put the unit on a flat surface and make sure there are a few inches of space around it. Put the basket into the holder, put your food in the basket, close it, and set the temperature and time. Both the power and temperature indicators will be lit up. It is known for the temperature indicator to go on and off during cooking.
The basket goes into the holder. If you want to take the basket out, just push this cover forward and press the red button, and you can just pull up the basket. Goes straight into the holder.
Check Price
The basket and holder are dishwasher safe, but I'd recommend hand washing them. To clean, use a damp sponge with mild detergent. You can use that for the outside and inside; just make sure that everything is dry before you turn the unit back on. Also, don't use any metal scouring pads or anything abrasive to clean the unit. (Read more about How to clean an air fryer)
Test with French fries
I'll cook French fries first. It's best to use a maximum of 1.2 lbs of potatoes for French fries, and these potatoes are just about that weight. I've peeled and cut them up into about a quarter-inch thickness. Some are a little bit thinner; some are thicker. These are two large potatoes.
Now you do have to soak them in water for 30 minutes. I'll drain these and dry them really well. I'm not adding any spices to the potatoes because I just want to see how pure French fries turn out.
Before you cook the French fries, you have to heat the oven to 400 degrees for a few minutes. The temperature dial is at 400, and I'm going to turn the timer to 5 minutes.
You can see both the lights are on. It's been 5 minutes, so I'll take the basket out. I rinsed and dried the potatoes and coated them in 1 tablespoon of oil. Always coat your food with oil; don't ever pour oil into the tray or the holder. I'll put the potatoes in. You can see the basket is half full.
The temperature is at 400, and I'm going to set the timer to 10 minutes. You can hear the air fryer; it sounds like a fan. It's not very loud.
So when the timer goes off, you'll hear a ding. Ten minutes are up; I'll take the basket out. You can see some of the fries are crispy around the edges. Just going to toss these.
If you have to shake food during cooking, pull the basket out, shake it, and put it back. The unit turns off when you take the basket out and turns back on when you put the basket in.
The timer will keep running down, and you don't have to turn the timer on again. Now we'll put this back and cook it for about 5 to 10 minutes. I'll set the timer to 5 minutes and check the fries. After 5 minutes, they're almost cooked but not quite, and they still don't have much color on them, so I'm going to put this in for another 5 minutes.
The 5 minutes timer is gone off, so now it's been a total of 20 minutes. Here are the fries. Some are golden, like this one, and some are not. Let me see if they're cooked. They are cooked; I'll just taste them. They are cooked, but some of the thicker ones are just cooked in the middle. They could use a few more minutes.
So after 20 minutes, most of the fries are done; it's just that there's barely any color on them, and they're not crispy. There are very few in here that are crispy. I want more color on my French fries because it doesn't look very appetizing.
I'm going to put this back in the fryer for another 5 minutes.
So it has been another five minutes for a total of 25 minutes. They are way browner now, which is good. These are acceptable. There are still some white ones there, they're not even at all, but there are some that are crispy and some that are not. I'll just taste this one. It is crunchy, and as you can see, they are not the prettiest plate of fries. Twenty-five minutes should be more than enough to cook French fries.
Now I did do a review of the Phillips air fryer a while back. You can watch that review down below if you'd like those fries cooked in about 22 minutes, and most of them were a nice golden brown.
Now the clean-up is very easy. There's hardly any oil splatter in the basket, and you can just wipe that off. The basket holder has a few drops of oil and some tiny pieces of potato, so clean-up should be really quick.
I'm going to wipe this down and try to make chicken wings next.
Test with chicken wings
I heated the air fryer for 5 minutes at 360 degrees Fahrenheit. This is about one and a quarter pounds of chicken wings. I've put 1 tbsp. Oil, salt, chili powder, paprika, garlic powder, and onion powder.
Check Latest Price
There are 12 pieces here, and they are in a single layer. Nothing is on top of each other, so these should brown evenly. Put this in, and I'll turn the timer to 10 minutes, and we'll check the chicken after that. It's been 10 minutes; I'm going to pull the chicken out. They actually look really good, I'm going to flip them over, and you can see one side is whiter than the other.
I'll put the chicken back, and I'll turn the timer on for another 10 minutes. When the timer counts down, you'll hear a bell, and the unit shuts off automatically. Both indicators turn off. You can also turn the unit off manually by turning the timer knob to zero.
So now the chicken has been cooked for 20 minutes. That looks nice and golden brown. The chicken is actually pretty even and golden brown everywhere. Looks good. I can see a little bit of white here. But for the most part, it's golden brown throughout. I'll check this piece to see if it's cooked. Now let me taste it; it's very tasty, and it's cooked. You can see the meat comes off the bones nicely, so it is nicely cooked. It is crispy. Most of the parts are crispy, and there's a little bit of soft skin here, but most of the chicken is crispy.
The chicken wings are very impressive. They're cooked, they're crispy, and they're really delicious. That's a really good-looking plate of chicken wings.
You can see the grease in the basket, and the basket holder has about 2 tbsp of grease in it. This is definitely a healthier way to eat chicken wings that taste almost like fried chicken wings. If you're trying to avoid deep-fried food, this is a more than acceptable version of chicken wings.
The housing is a little bit warm, but the handle does stay cool during cooking. The air fryer did a great job on the chicken wings; they're crispy, they're delicious, and a decent job on the potatoes. The potatoes were cooked through and tasted just fine; it's just that they were not really crispy.
(via youtube.com)
Farberware Air fryer Recipes