What is an Air Fryer?
Air fryers are all the rage in cooking. Have you seen one of the many advertisements and wondered, "How does an air fryer work?" Are you curious about the health of an air fryer? Worry no more! You have landed on the right page to answer all of your air-frying questions.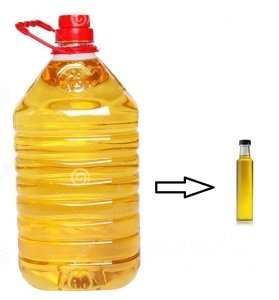 If the term "air fryer" sounds like a lot of hot air, your speculations are exactly right! An air fryer is simply a revolutionized kitchen appliance for cooking food through the circulation of superheated air. It is a new invention from Philips that offers healthy, tasty foods with less oil.
Air Fryer Taste?
"Do the fries taste deep-fried?

"Look – nothing is going to replace that deep-fried taste, so no, they don't," said Ramsay honestly.

"But, the Airfryer uses a tablespoon of oil and the chips come out crisp on the outside and tender on the inside – they're a healthier version, and they taste great."
Read more: Air Fryers Review by Cooking Experts
How Does an Air Fryer Work?
Top Air Fryers Recommendation
Air fryers use Rapid Air Technology to cook any type of food that you would otherwise dunk in deep fat. This new technology works by circulating air to high degrees, up to 200C, to "fry" foods such as fish, chips, pastries, chicken, and more. This Rapid Air Technology is bringing in a new era of cooking appliances and a new generation of cooking methods altogether. Air fryers render foods perfectly browned and crisp with less fat – up to 80 percent less, as compared to traditional cooking methods.
Rapid Air Technology: A New Generation of Cooking Equipment.
Healthy and User-Friendly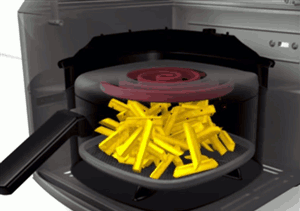 An air fryer's cooking chamber radiates heat from a heating element close to the food, thus cooking it more efficiently and appropriately. The exhaust fan located above the cooking chamber helps to provide the required airflow from the underside. This allows the heated air to constantly pass through the food. Consequently, every part of the food receives the same heating temperature. Using only a fan and grill helps the air fryer to blast hot air at high speed, achieving the healthy qualities that you will undoubtedly notice when eating air-fried food. It is a simple yet innovative method of cooking.
Similar to a rice cooker, an air fryer has a wide removable tray. It serves up a hot, crisp meal within 12 minutes. Though it may seem "fried" because of the crispy quality, the food cooked in an air fryer is actually healthier and reduced in calories. Philips CEO Pieter Nota said, "At Philips, we develop advanced solutions that help contribute to people's health and well-being." Anything you can think of, from chicken to chips to fish, can be made healthier in an air fryer because its cooking method requires very little fat. For instance, a batch of chips only calls for half a spoonful of oil and 12 minutes to serve perfectly crispy potatoes.
Similarly, an air fryer will give you hamburgers, steaks, and French fries in just a few minutes. You'll be amazed, but in just 25 minutes, you can bake an entire cake in an air fryer!
The exhaust system controls the temperature that is increased by internal pressure and emits extra air as needed to cook the food. The extra air is thoroughly filtered before being released, thus being better for the environment. Air fryers are both user and environment-friendly – harmless and odorless!
>> Oil-less fryer with 70% Less Oil.
Cooling System
Do not be afraid of the superheated air that is used for cooking food in an air fryer. Each comes with its own cooling system, including a fan mounted on a motor axis to control the internal temperature. This fan ensures that the environment inside the air fryer stays clean and healthy. The cooling system allows fresh air to pass through the filters and proceed to the bottom of the fryer. Allowing the passage of fresh air from top to bottom helps the air fryer to cool its internal parts.
What is air frying?
The air fryer's benefits are endless. It helps users who are nervous when using a traditional chip pan and protects them from fire or burning. Its cooling systems and controlled temperature allow it to protect itself. Better tasting food, healthier meals, friendlier to the environment – we could go on and on. Try ad air fryer for yourself and discover even more benefits!
Air fryer Brief History
Air fryers were first launched in Australia and Europe in 2010, followed by North America and Japan. Today, they are a staple of the modern kitchen. The Japanese use air fryers for making fried prawns, in the Netherlands and the UK, this gadget is used for cooking chips. Americans prepare chicken wings in their air fryers. Indians use them for making samosa.
FAQs for Air Fryer
Question: Can we cook different varieties of food in an air fryer?
Answer: Yes, you can easily cook different varieties of food in an air fryer. One of the best things about cooking food in an air fryer is that it is healthy and free from oil. Items such as meat, potatoes, poultry, and French fries can be easily cooked. Apart from these items, you can also bake brownies and grill different vegetables.
Question: What is the input power range of an air fryer?
Answer: For the European market, the input power range is 220 v, and for the USA market, it is 110 v.
Question: How much time an air fryer takes to cook frozen foods?
Answer: One of the best things to do while cooking frozen food in an air fryer is to use the knob as per the food that you are cooking. It normally takes some more time to cook frozen foods as compared to other food items.
Question: How much food can be cooked at a time in an air fryer?
Answer: It all depends on the capacity of the air fryer. Most of the air fryers come with 500g of capacity, and you can also see a "max" mark on the basket of the air fryer, which means that the air fryer can be filled up to this mark.
Question: Is there any specific type of oil required for an air fryer?
Answer: No, there is no special oil that is required for cooking in an air fryer. You can use any type of oil, such as olive oil, peanut oil, sunflower oil, and even butter spray.
Question: Can we add more ingredients while the food is getting cooked in an air fryer?
Answer: Yes, you can add more ingredients while the food is getting cooked in an air fryer, but make sure to add the ingredients immediately; otherwise, the heat loss may lead to more time consumption for cooking the food.
Question: Is it possible to use baking paper or aluminum foil in an air fryer?
Answer: Yes, you can use baking paper or aluminum foil, but you need to make sure that appropriate space is given so that the steam can pass easily.
Question: How many items can be cooked at a go in an air fryer?
Answer: You can easily cook two different items at a go in an air fryer but make sure to use the divider. This will help in proper cooking, and less time will be consumed.
Question: Do we need to preheat the air fryer?
Answer: No, there is no need to preheat the air fryer. However, pre-heating the air fryer for about 4 minutes can help in a significant reduction of the cooking time.
Question: Does an air fryer help in making food crispy and tasty?
Answer: Yes, the food that you cook in an air fryer is as tasty and crispy as it is with frying. One of the main reasons why air fryer cooks tasty and crispy food is because it helps in keeping the outer layer of the food crisp and the inside gets soft.
Expert Advice and Information on the Best Air Fryers 2022