Do you have a mini garden attached to your kitchen that is full of spices like thyme, basil, and oregano? And do you love to enjoy the fresh flavor of summer basil in any season? Then you can easily make it in your kitchen with the basil you grew in your backyard. You can follow many processes to dry these spices. You can also easily find a bottle of dried basil in any supermarket. But I think homemade dried basil is good for your health and makes your recipes more special. So if you don't know how to store basil for all seasons, then let us help you out with this problem.
What is Basil?
Basil is a summertime herb of the mint family. This spice is most famous in many Italian recipes, but it's also popular in Thai, Indonesian, and Vietnamese cuisine. This greenly annual spice has a mildly sweet fragrance with a light peppermint taste. There are many types of basil, like purple, sweet basil, etc., but sweet basil is commonly used in cooking. Basil is straightforward to grow. That's why you can easily take a small corner for this in your backyard garden.
Why do you need to dry fresh basil?
Every garden-fresh spice is undoubtedly best for any recipe. Basil also gives an exotic flavor to any dish when you use it raw. It would be best to have some fresh, garden-pick basil for your pesto for the best flavor and some rich taste. But this spice is a summertime herb. That's why you need some dried versions for further usage. The dried one is different from the fresh one because it faded some anise flavor and drew out the mint flavor in the dehydrating process. But you can store dry basil for about 1-2 years in your pantry.
What to do before drying basil leaves?
Dehydrating basil is mainly used after its annual time. This herb is widespread in any supermarket, so you can easily buy from them. If you have a bunch of fresh garden growing basil in your kitchen and you don't want to dump it in the dumpster, then dehydrate it. You can easily make dried basil for your pantry in many effortless ways. But you need to follow some rules. Like:
Wash the basil leaf:

Yes, you need to bathe your green leaf in cold water. Please don't be harsh on your basil; otherwise, it loses its flavor in the water.
Dry out the wet basil:

after bathing, you need to remove each drop of water from the leaf. You can use your salad spinner to take out extra outer water. After that, use a kitchen towel to dry it thoroughly. If any drop of water remains, it just cooks the basil instead of dehydrating it.
Prepare for dehydration:

Remove all types of stem from the leaf. After that, leave this basil in the air for at least one day to dry completely. If you do this for two to three days, you can get the best result.
These are just preparation for dehydration. The primary process for dry basil is most commonly used in the oven. It is easy to use and fastens the process, and you can easily control the method.
How to dry basil in the oven?
Dehydrating basil in the oven is an effortless process. It would help if you had some essentials, like parchment paper, a baking tray, etc. Take parchment paper on the baking tray. After that, lay the basil leaf on the tray in a single layer. Don't overlap this process otherwise, and you don't get a perfect dried spice. If you have a large quantity of basil, use an extra baking tray or repeat the process.
Preheat your oven to a minimum temperature. Most ovens have 170-180°F as the lowest temperature. Place the tray into it and heat it for 1-4 hours. Don't check the leaf in the first hour. After one hour, check whether the basil crumbles easily or not. If it is not crunchy, heat it just like before but inspect the leaf every 15 minutes. Take a leaf from the tray, and if it is easy to crush, it is ready to preserve. This is the basic dehydrate method of basil. 
How to dry basil leaves without an oven?
Using Dehydrator
You need to follow every step, like an oven for a dehydrator. But in this machine, it is easy to dry because of its pre-programmed settings.
Dry basil leaves in the sunlight
If you don't have a dehydrator and don't want to use the oven, air dry is the best solution. Use a dry rack, lay your leaf into this, and don't overlap the basil. Then leave it in the air. Please don't put it in a different humidified area because it creates a mole in your basil. And also, don't put the dry rack in direct sun. The heat can change the color and make the leaf darker. It is the most comprehensive process, and you need around one week to get the expected basil.
Dry basil leaves in a microwave.
This is the fastest way to dehydrate. You need 1-2 minutes to make, but yes, this process lost most of the fragrance of the basil. If you don't have enough time, then you can follow this method.
How to store dry basil?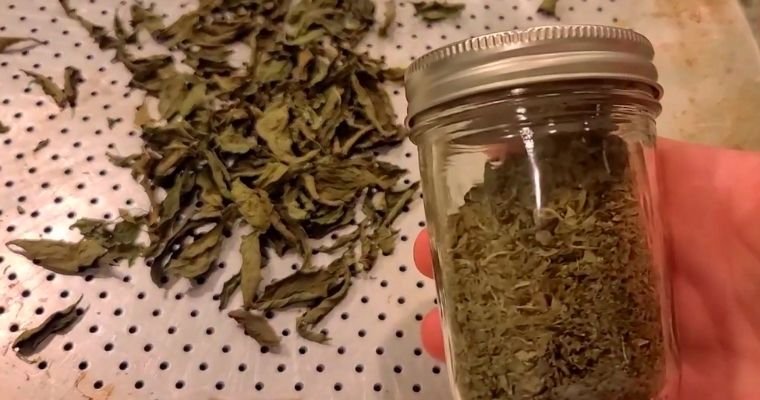 Preserving is the most important in this process because if you don't follow the rules, you end up with ruined basil at the end of the year. At the first rest, the basil until its temperature came to room temperature. Crumble all the crunchy leaves of basil at first. Then take a clean container with an airtight lid. Keep the container in a cool and dark place, and you get the fresh smell every time you use the basil. You can easily preserve this basil for around two years.
Final Overview
Drying basil collected from your garden is a healthy, fresh, and exciting chore. You don't know for sure about the quality of store-bought, but you can be assured of the best quality of your homemade ones. Here you'll find some methods to dry the basil. I love it in the oven. It preserves more fragrance from the other forms. Homemade is also way cheaper than store-bought ones. And you can easily enjoy your recipe even if it's not basil season.
FAQs:
How much do I need dried basil instead of a fresh one?
If you need one tablespoon of fresh basil, you can replace it with one teaspoon of dried one.
Why can't I dry the basil in direct sun?
If you dry your basil in direct sun, the excess heat turns the leaf black and shirks some extra essence. That's why you can dry the leaf in a bright place, not in direct sun.
Can I use basil instead of oregano?
Basil is a very mild type of spice. On the other hand, oregano is different from this. It has a strong flavor. If you can customize the recipe's difference, you can use this.
How to dry basil leaves naturally?
If you want to dry basil, use the microwave process. That is the fast way to get dried herbs like basil. If you wish to naturally, then go for air-dried method.