There's a new big boss in airfrying and it's name is as powerful as its superheated air — Power Air Fryer XL!
Power Air Fryer XL Reviews
Power Airfryer vs Philips Airfryer
I got the chance to test and write a review about it after I was able to exhaust Philips Avance XL's full potential. In this article, you'll be able to get to know Power Airfryer better in terms of capacity, power, clean-up and even recipe testing.
Food Capacity
Beginning from its size, Power Air Fryer XL comes in two food capacity options: 3.4 quarts and 5.3 quarts. The smaller one's fit for two, while the bigger one's fit for a family of four.
THUMBS UP: It goes bigger or go home with the bigger food space. You can cook more food and with the removable divider, you can cook two different meals at the same time.
If you would take the 3.4-quart size, you'll have to consider the type of food you would want to cook. You can squeeze in three pieces of steak or fish fillet separately but a standard 9-inch pie pan won't fit in there.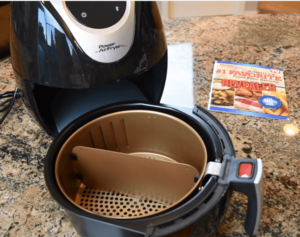 THUMBS DOWN: It could use a vertical divider, which can offer much even cooking because the superheated air can circulate better. I noticed that food doesn't get evenly cooked when they overlap each other. It does happen when you need to stack one on top of the other because of the small space.
Cooking Options
It's fun to play with your new gadget when you know how many things you can do about it. With 7 pre-programmed cooking settings, you can have a wide variety of dishes to play with this machine.
THUMBS UP: Power Air Fryer XL comes with a small recipe booklet, which has 27 different recipes plus an instructional manual. And thanks to thousands of YouTube videos, you can get creative with your air fried dishes.
THUMBS DOWN: The steaming cooking option cannot be used unless you have the accessory. It goes the same way with baking (baking pan needed), pizza-making (pizza pan needed) and getting food easier (thongs needed).
Power Airfryer Accessories
Minimalistic Console
Nowadays, having less is more. The minimalistic design of this airfryer's touchscreen console is very sophisticated but can get really confusing at the start.
THUMBS UP: The one-touch screen is a cool feature because the timer, temperature, cooking options are all on its interface. The 7 programmed cooking settings will help you skip computation and you'll just wait until your food's cooked.
There's a spinning fan icon that lets you know it's on. It goes out as an automatic shut off, which is its best safety feature. I also liked that the temperature is printed big and is dead-center.
THUMBS DOWN: Seeing icons and not words would definitely be a plus for design, but not for usability. You have to always get the instructional manual or put your own labels on the console.
The timer's printed smaller than the temperature and the letter "M" on the middle is the "reset button", which for me are both confusing because they don't have proper identification unless you read the instructional manual.
But once you press "M", the 6 other cooking programs will appear: (from left) fries, roast, shrimp, cupcake, chicken drumstick, steak slice, and fish icons — now you'll know what you'll press.
I think with a bit of getting used to this air fryer, we'll be confident and comfortable using it.
Super Hot and Super Fast
With 1700 watts of "Turbo-Cyclonic" energy, the Power Air Fryer XL conjures up to 400 degrees Fahrenheit of "super-heated air" cooking your food in just a matter of minutes and faster than your conventional oven.
THUMBS UP: Preheating is just for 3 minutes but makes sure you preheat the machine with its accessories at the hottest temperature for better, efficient cooking. Follow this and you can have egg rolls ready under 5 minutes and a perfect steak under 10 minutes.
THUMBS DOWN: All components get super-hot, though. You have to wear oven mitts to hold the air fryer basket handle and a heat-resistant surface to put it down when removed.
Clean-up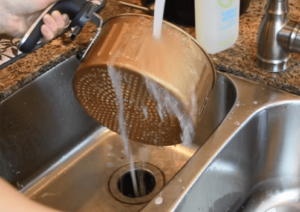 No mess, odor-free, hassle-free cleaning is what I have experienced with the Power Airfryer XL because some parts are dishwasher-safe and some will just need wiping.
Because you're using little to no oil, you don't have to worry about storing used oil or clogging your sink. Plus, it doesn't fill your home with a bad, fried odor. Use a hot moist cloth with a dab of detergent to clean the outer basket and the inside of the air fryer. Then wipe them with another clean moist cloth to remove the detergent.
The fry and outer baskets are dishwasher-safe or are cleaned by hand. You may use a scrubby with the removable parts, but not with the unit itself.
Air Fried French Fries Test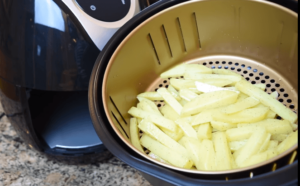 No better way to test the air frying capability of this air fryer but with French fries. I will make air fried French fries according to its recipe book.
We start with blanching the potatoes, giving them some seasoning, and adding a few tablespoons of oil. We put them on the air fryer cooking basket and select the French fries icon, which is 18 minutes at 400 degrees cooking program.
To ensure even cooking, we need to shake the fries halfway through their cooking. So let's open and pull out the outer and fry baskets to give the potatoes a bit of shaking.
Don't worry about the cooking process; a nice feature about this airfryer is that you do not disrupt the preset cooking time even if you open the basket many times. As soon as you put the basket back in, the timer continues the cooking until it finishes to cook your meal.
Once the timer is done cooking, the airfryer automatically shuts off and we have perfectly cooked French fries! They have a good color and most importantly, they aren't greasy or oily as you can see from the paper towel; they barely show oil residue. This is because all the residual oil is collected on the bottom of the outer basket and not on the fries.
So I really hope that this was a helpful review for you. Please share your thoughts in the comments section and I will be glad to have a chat with you.