If you're looking for a healthier option for deep-frying food, the Power XL Air Fryer Grill is a perfect option. This air fryer cooks food quicker than a traditional oven, but the food is also healthier. On top of that, the Power XL Air Fryer is large and has multiple accessories to cook various types of food. Without much ado, we're going to dive deep into the Power XL Air Fryer Grill review so that you can learn both the good and bad attributes of this product.
Besides, Power XL is a top air fryer brand with many unique products. Nonetheless, buyers have mixed reactions to the Power XL Air Fryer Grill, with most views being positive. That's why it has become popular and one of the best air fryers on the market.
Features of the Power XL Air Fryer Grill
We will highlight its features, how it works, its pros, and its cons. So, continue reading to find out.
Versatile cooking functions
The Power XL air fryer grill allows the user to cook multiple foods differently. So, you're not just limited to baking and frying. Thanks to the 8-in-1 combo that will enable you to grill, bake, fry, roast, broil, pizza, air fry, rotisserie, or even reheat. Some foods you can cook in this high-quality air fryer are bacon, chicken, steak, fish, veggies, shrimp, and much more.

Check Updated Price
Outstanding heating power
This air fryer is also highly rated with 1500 watts. As a result, it has an outstanding temperature range of between 200 and 450 degrees that allows you to cook almost anything. If you combine this with high-speed superheated air circulation around all sides of the food, you end up with tender food on the inside but crispy on the outside.
Healthy cooking
Unlike a traditional deep fryer that uses a lot of oil, the Power XL Air Fryer grill uses little oil but also creates tasty meals. Therefore, you will enjoy your meal but reduce your calorie intake by around 70%. So, as more people become more conscious about their eating habits and diet in general, this air fryer helps them achieve healthy eating.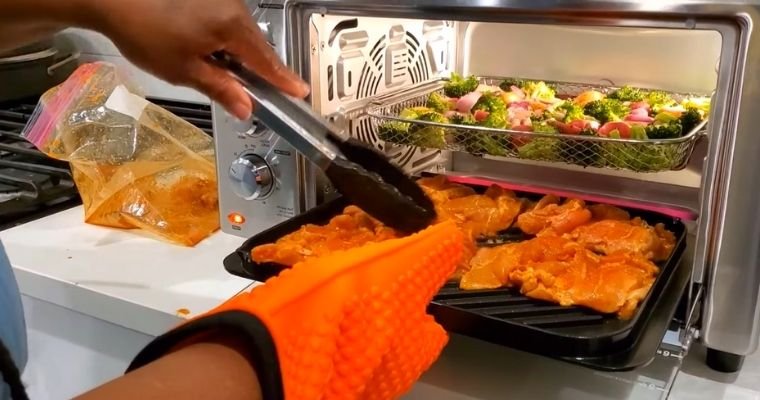 Check Updated Price
Reduced cooking time
Another advantage of using the Power XL Air Fryer Grill is that it cooks faster than a traditional oven. It is estimated that this fryer cooks at a rate 40% faster than conventional ovens. That's the reason why many people are starting to embrace air fryers. Besides, unlike a traditional oven, you don't have to thaw frozen food as you can place it directly into the fryer.
Multiple accessories
Unlike using a frying pan or oven alone, this air fryer comes with multiple accessories that enable you to cook different types of foods. Some of the accessories that it comes with include stainless steel mesh fry basket, drip tray, nonstick grill pan, stainless steel roasting rack, and rotisserie spit. With these accessories, you can explore different cooking techniques.

Check Updated Price
Easy to use and clean
Cleaning the oven and frying pan can be time-consuming. But when you use this air fryer, you don't have to worry about cleaning as it's made easy with a nonstick surface. So, no scrubbing or soaking is needed before cleaning. Additionally, the air fryer is dishwasher safe, so you don't have to waste time cleaning it by hand.
Even heating
One of the significant challenges of cooking in a traditional oven or frying pan is that the food won't cook evenly. That's not the case with the Power XL Air Fryer Grill. This unit circulates superheated cyclonic air at high speeds entirely and evenly distributes heat. Therefore, food cooks evenly for a delicious and sumptuous meal.
Producing a maximum of 450 degrees, this air fryer delivers consistent results regardless of the cooking method that you pick.
Large capacity
If you're a big family and want to cook food at once, the Power XL Air Fryer Grill will help you do that. This is because it has a 4.54 liters capacity, which is enough to cook for the whole family. For instance, you can prepare pizza, 10-pound chicken, rotisserie kebabs, or even six huge burgers.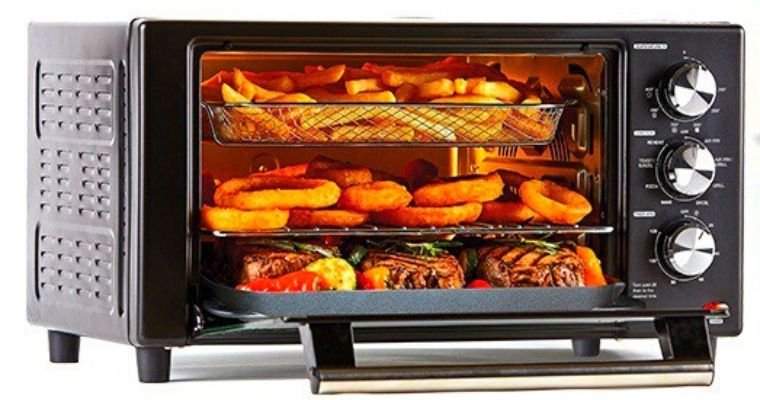 Check Updated Price
Handy recipe book
Power XL provides users with a recipe book with easy-to-follow grilling and air-frying recipes created and tested by Power XL chefs. Hence, even if you're new to cooking, you will still be able to cook different types of meals without many challenges.
What we like about the Power XL air fryer:
It comes with multiple helpful cooking accessories
It is easy to clean as it comes with a nonstick coating
The air fryer is dishwasher safe
It provides healthier foods
It is easier than frying and reduces the amount of oil you use
What we didn't like:
It is quite noisy
This Air fryer grill gets extremely hot
It can create smoke if grease falls on the heating elements
How does the Power XL Air Fryer Grill work?
Power XL Air fryer grill works using convection or airflow technology that cooks food on both sides to produce crispy food. This method is five times faster than traditional methods. Besides, it browns the exterior while gradually cooking the inside to lock in the flavor as it cooks your food.
Conclusion
If you love crispy food and want to reduce your cook time, the Power XL Air Fryer Grill is an excellent air fryer to have. It has various accessories such as a baking pan, crisper tray, rotisserie spit, oven rack, grill plate, and drip tray that allow you to cook different meals.
It is very versatile as it allows the cook to prepare more than two foods at once as it has two cooking shelves. And with its large capacity, it can cook food for the entire family. You won't have to acquire different cooking appliances with this air fryer.
FAQ
Is a Power XL Air Fryer any good?
Yes, the Power XL Air Fryer is a good product. This is because it can cook two different foods at the same time. What's more, it has multiple cooking accessories that allow users to prepare other meals. Besides, this unit is big, meaning that it enables the user to cook a lot of food for a family.
Is the Power XL Air Fryer Grill noisy?
Yes, the Power XL Air Fryer Grill makes a lot of noise. If you have an alarm system in place, you should be careful with how you use this grill, or it will produce noise that will set off the alarm system. So, if you're not into noisy air fryers, this is not the product for you.
Why does my Power XL Air Fryer Smoke?
Even though the Power XL air fryer grill is marketed as an almost smokeless product, this is not true. However, this air fryer may not produce any smoke if adequately used. However, it can produce smoke if moisture and juices find their way onto the heating surface.
Does air-fried food taste the same as traditional fried food?
No, it doesn't. This is because much of the fried food taste comes from the oil cooked in. Besides, air fryers use hot air instead of oil to fry their food. Nonetheless, the food will still have the same crispy look, but the taste won't be the same.