Air fryers are gaining popularity very quickly. Thanks to the powerful cooking technology that they come with. Unlike traditional fryers, ovens, and grills that limit the user from cooking particular foods, an air fryer allows the user to cook multiple types of foods. So, if you have a quality air fryer like the PowerXL Grill Air Fryer Combo, you don't need an oven, fryer, or grill. If you're undecided about selecting the Air Fryer Combo or not, then our PowerXL Grill Air Fryer Combo reviews will help you.
The PowerXL Grill Air Fryer Combo is one of the best air fryers on the market. Not only does it come with 12 different accessories for cooking different meals, but it is also straightforward to use. Additionally, it comes with rapid air crisp technology to ensure the user cooks crispy and healthy food. Unlike conventional fryers that require the cook to turn food, this fryer cooks evenly.
Check Price
Features and Review of the PowerXL Grill Air Fryer Combo
We have highlighted all the air fryer's features, pros, and cons. As a result, you can make an informed decision. So let's check out.
Versatile cooking functions
One of the main reasons why the air fryer is becoming so popular is due to the different types of foods it can be used to prepare. The PowerXL grill air fryer combo is not different, as it can also be used to prepare food in 12 different ways. The chef can decide to saute, air fry, roast, grill, steam, fry, slow cook, rice maker, sous vide, and much more. This unit comes with 12 presets that allow you to prepare food differently.
Exceptional heating power
Aside from preparing food in multiple ways, the PowerXL grill air fryer combo is also powerful. Thanks to its excellent wattage capacity of 1550, that can heat food to 500 degrees Fahrenheit. Note that the lowest degree Fahrenheit is 180 degrees. With such an outstanding temperature range, the user can prepare almost any type of food they desire.
Healthy cooking
Another advantage of using the PowerXL grill air fryer is that it cooks healthy food. Unlike traditional fryers, the air fryer doesn't use oil to prepare food. The rapid air crisp technology provides maximum crisping using hot air instead of deep fryer oil.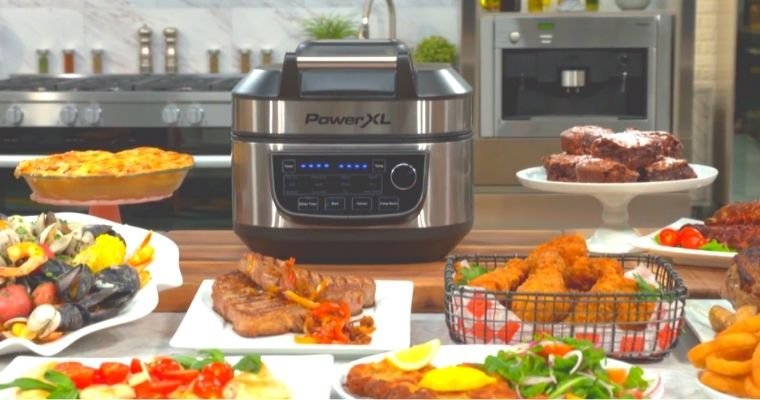 Besides, this appliance air fries food with 70% fewer calories than deep-fried food. So, it's much healthier than regular fryers.
Reduced cooking time
Apart from cooking crispy food with fewer calories, the PowerXL grill air fryer also cooks food in a short period than a fryer or even the oven. It cooks food 40% faster than a conventional oven.
The PowerXL grill air fryer has three heating elements that make the cooking process faster. It has a cooking component on the top, bottom, and side. It also features a powerful fan on the side designed to circulate heat throughout the cooking chamber. This fan helps cook food faster as it supplies cyclonic air in the cooking chamber.
Multiple accessories
Having an organized and neat kitchen is vital. Nonetheless, this can be problematic if you have pans, fryers, ovens, and even a grill. All these kitchen tools can take up a lot of space. But if you acquire the PowerXL grill air fryer, you won't have to worry about this. Thanks to the premium accessories that it comes with, such as a nonstick inner pot, tempered glass lid, nonstick grill plate, serving ladle, bake pan, mesh frying basket, thermometer, and crisper pan.
Even heating
One of the main challenges of using a traditional pan is that you have to turn the food to cook evenly. However, you don't need to worry about cooking unevenly cooked food while using the PowerXL Grill Air Fryer Combo. This is because it cooks food evenly with its rapid air crisp technology.
Easy to use and clean
Using an air fryer can be pretty tricky for newbies. Nevertheless, that's not the case with the PowerXL grill air fryer combo. This unit comes with a digital display that is straightforward to use. Aside from that, it is also easy to clean as it features a nonstick surface.
Large capacity
If you have a family of 6 people or more, you will love this PowerXL Grill Air Fryer as it has a capacity of 5.67 liters or 6 quarts. This means that it can serve at least six people at once. This is a perfect air fryer for a large family with such capacity.
Recipe book and instruction guide
Even if you're not an expert in cooking using an air fryer, you will love this appliance. This is because it comes with a recipe book, instruction guide, and quick start guide. These tools will help you use this air fryer combo and cook your favorite meals without any issues.
Pros: What's so special about PowerXL?
It comes with various cooking accessories
It's simple to use
It is straightforward to clean as it has a nonstick surface
Its dishwasher safe
It is perfect for a large family
It is excellent for healthy cooking
Negative Reviews:
It takes a pretty long time to heat up
The combo unit produces smoke if grease falls on the heating elements
It is somewhat noisy
Conclusion
The PowerXL Grill Air Fryer Combo is an exceptional air fryer for a large family. This fryer is straightforward to use, clean, and operate. It also comes with several accessories that allow the user to prepare different meals. Besides, this grill air fryer is also helpful if you have guests at home and want to cook faster.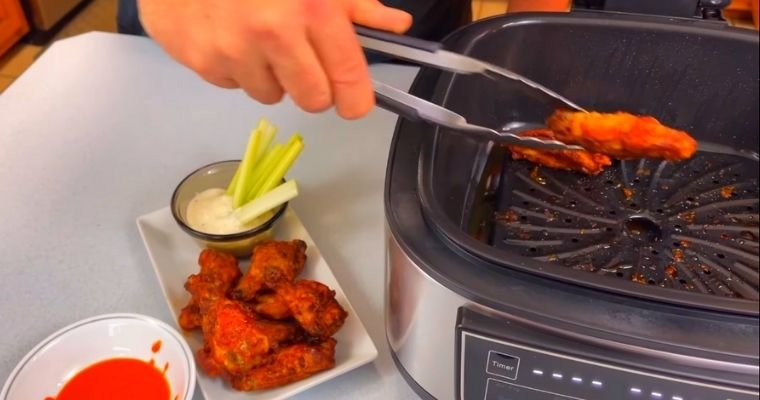 Nonetheless, it also comes with a few shortcomings. For instance, this air fryer takes a long time to heat up. It takes approximately 30 minutes to heat up. What's more, it is somewhat noisy, which may be troublesome to some people and may alert the alarm.
FAQ
What foods shouldn't be cooked in an air fryer?
An air fryer is an excellent tool that allows a chef to prepare crispy and well-cooked food without deep frying it. Nevertheless, not all foods can be prepared in an air fryer. Some foods you shouldn't cook in an air fryer are fried food with wet batter, raw veggies, broccoli, rice, and hamburgers.
How long does bacon take in the air fryer?
It depends on the temperature that you've set up. Nonetheless, bacon usually takes about 10 to 15 minutes. If you have a PowerXL air fryer, the bacon will take 10 minutes if the air fryer is set to 400 degrees. This is the best temperature for preparing bacon in an air fryer.
Is Power XL a good air fryer?
Yes, the PowerXL is one of the best air fryer brands on the market. This brand produces exceptional air fryers. Besides, their air fryers are easier to use, come with multiple accessories, are smokeless, and usually have a nonstick surface for healthy cooking and ease of cleaning.
What is an air fryer grill, and how does it work?
The air fryer grill is a multifunctional indoor grill and air fryer. This air fryer works by combining its crisp grill technology with a die-cast grill plate to lock in juices and flavor for evenly cooked food. Besides, this air fryer grill comes with multiple heating elements to ensure efficient cooking without hotspots.